MAG Brake Trolley: Self-braking Zipline trolley with integrated magnetic brake
The MAG Brake Trolley uses Eddy Current (Magnetic) technology to safely and consistently brake Zipline riders based on their speed.
The magnetic Zipline Pulley has an integrated magnetic brake that is powerful and incrementally adjustable. We can slow down the rider to a manageable pace without friction, heat, or cable wear thanks to the inbuilt Eddy Current Brake. As a result, the demand for maintenance on the zipline lines and trolley is considerably reduced.
Safe Zip Wire Braking and Speed Regulation
The key safety difficulties surrounding the regulated and safe braking scenario at the end of high-speed zip wire courses are addressed by our self-braking zip wire pulley.
The
MAG Brake Trolley
, which was designed specifically for steep, long, and fast zipline courses, enables for the building of long-distance ziplines without a complex braking area. By eliminating costly and high-maintenance structures, we leave the smallest possible environmental imprint. The MAG Brake zipline Pulley can tolerate a speed drop of up to 35% because to its internal braking mechanism.
All riders will arrive at the same speed, regardless of weight or weather conditions (wind), providing for a safe and controlled braking situation.
Proven Technology
We use proven Eddy Current brake technology, that is extremely reliable, smooth, and low maintenance. The magnetic braking is friction-free with no contacting parts. Eddy Current technology is fully proven and used in many critical applications. Our automatic-braking Zip wire Pulley is therefore one of the safest brake pulley available on the market for high end commercial zipline with slopes up to 25% and speeds up to 140 km/h. 
MAG Brake Pulley Configurations
Speed reduction: 
Trolley with copper wheels, up to 35% speed reduction
Trolley aluminum wheels, up to 25% speed reduction
No speed reduction 
Trolley configurations: 
Trolley with integrated handle and safety slots for a sit-harness 
Tandem trolley with two integrated handles and safety slots for sit-harnesses
Trolley with 3 integrated safety slots for usage with a Superman (head-first) harness 
Trolley Options: 
Catch mechanism for zipline braking systems
Different setups for specific harnesses 
Action Video camera setups
Company personal branding 
Specifications 
| | |
| --- | --- |
|  Body: |  Aluminum Body |
|  Braking Type: |  Patented Eddy Current - Magnetic Brake |
|  Max Speed Rating: |  140km/h |
|  Cable size options: |  From 12mm to 22mm rope diameter |
|  Cable grade range: |  4% – 25% |
| Rider Weight Range: | 25 – 125 kg (275 lbs) |
| Trolley Weight: | 6-7 kg (depending on configuration) |
| Harness Compatibility: | Seat or Superman Harness |
| Compliance / Norms: | WorkSafeBC part 11 and CSA Z259.16-15 design of fall protection and ASTM F2783 design of amusement rides |
Pricing
Check out our shop for pricing and options.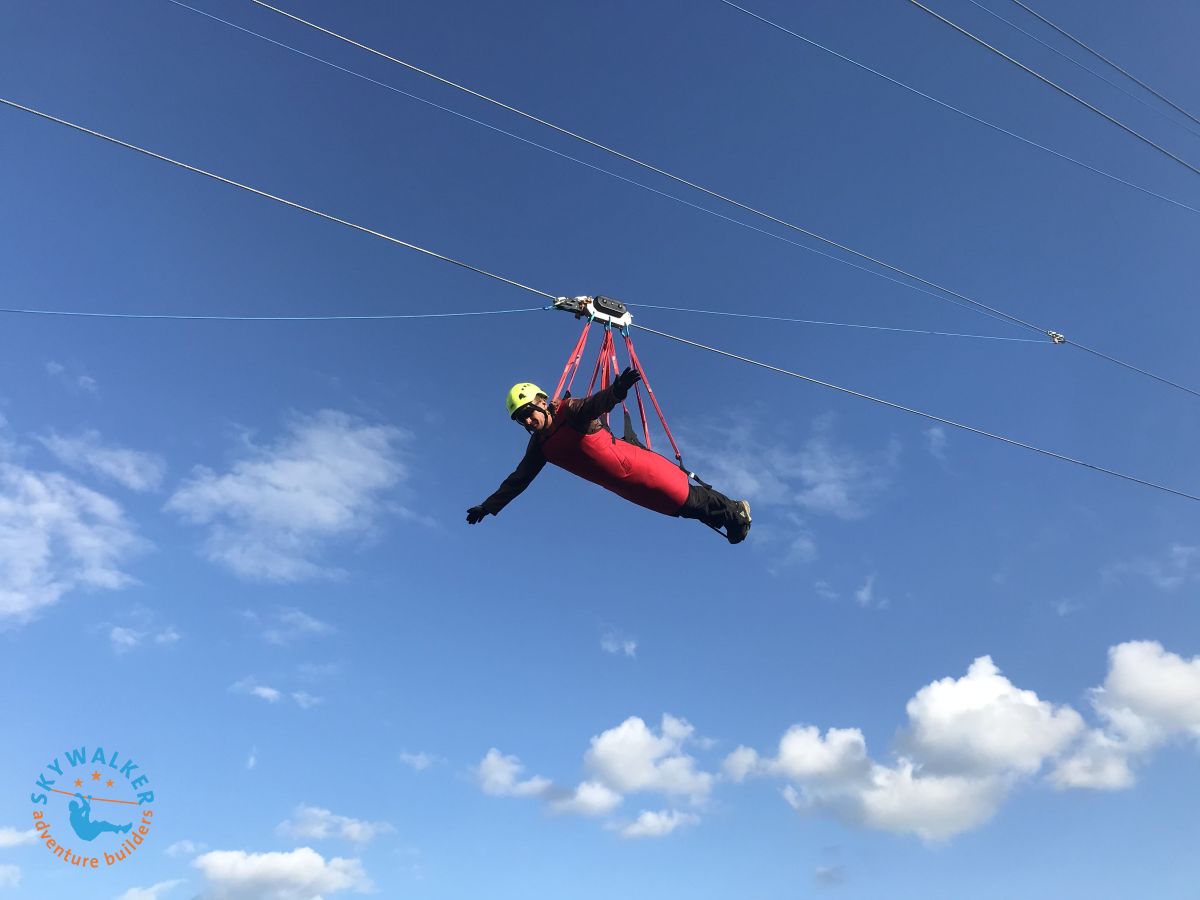 About Magnetic Braking Technology
The Eddy Current (Magnetic) brake technology is extremely reliable, smooth, and low maintenance. The braking is friction-free with no contacting parts.
Low Maintenance
Because the braking is magnetic there are no contacting parts in the braking system to wear out or fail. The Magnetic Zipline Trolley is low maintenance and extremely reliable. Wheel changes are easy and are integrated in the normal inspection cycle.   
Self-Regulating
The self-braking Zipline pulley is self-regulating, meaning it adjusts automatically based on the characteristics of the zipline and rider. Since the braking resistance adjusts automatically to zip wire configuration, the MAG Trolley can accommodate a wide range of ziplines, and thus providing riders a similar and consistent experience.
Best User Experience
The automatic-braking Zipline trolley with Magnetic braking system is self-regulating, braking will be gradual and the speed will progressively decrease. A heavier participant will generally generate a faster speed, causing the magnetic field to create increased braking force. This allows a wide range of weights to enjoy a similar and consistent experience.
Photo: MAG Brake Trolley trolley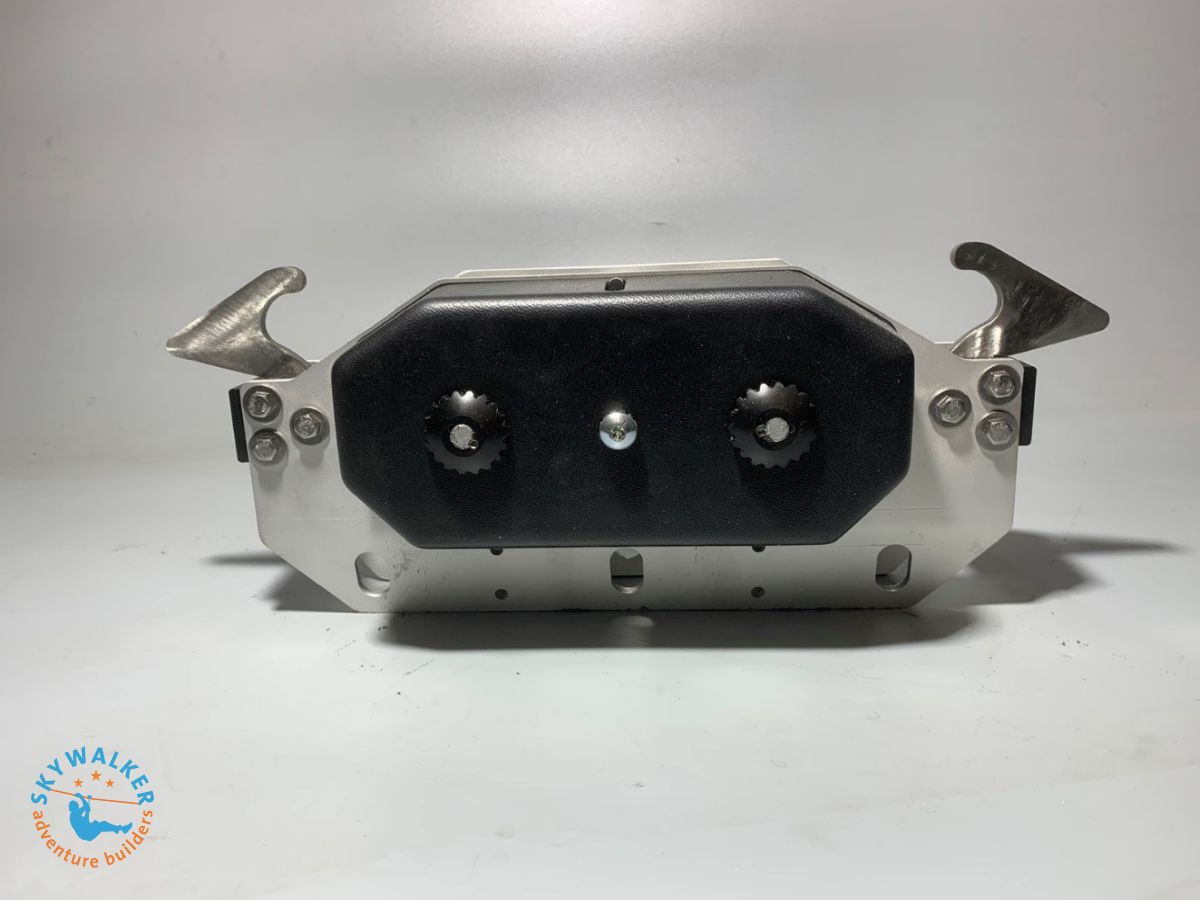 Additional expert Information regarding Zipline technology
Interested to read more about Zipline technology and expert opinions?