If you're searching for a one-of-a-kind climbing experience, an Active Fun Structure may be just what you're looking for. During the creation process, your preferences are of utmost importance, and we consider the total appearance of the natural environment or your existing facilities. This approach enables us to establish a strong connection.
We create net adventures that are tailored to the needs of our clients - their vision, location, and environment - simply successful originals. We do not, however, disregard those who prefer speed, simplicity, and affordability. As a result, your net adventure can be completely customized or we can easily build a pre-designed net adventure for you.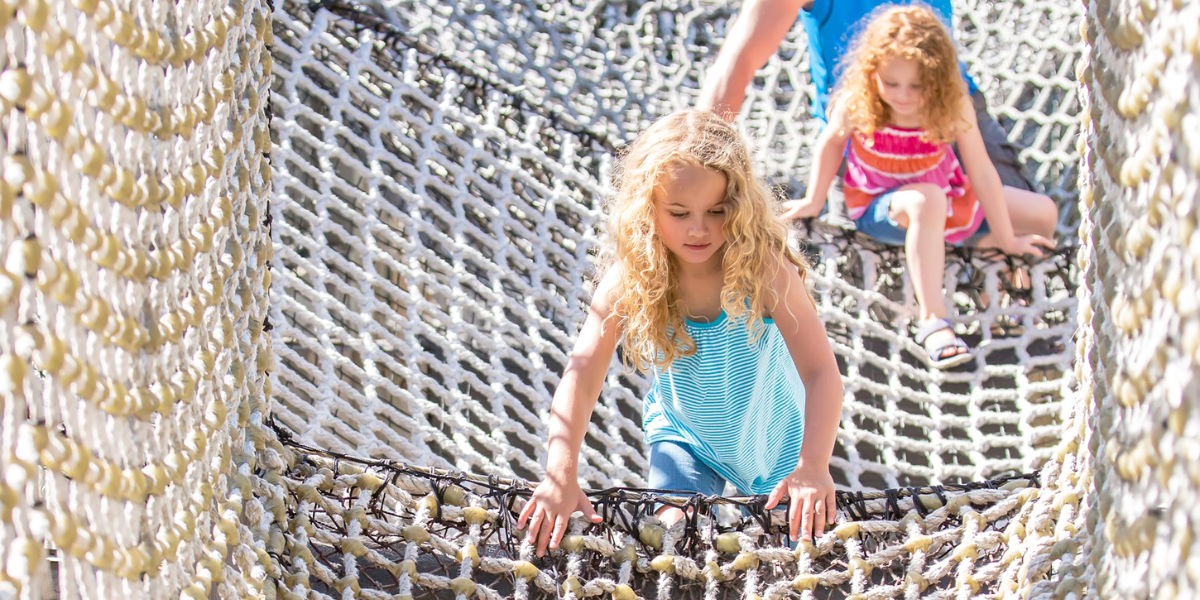 Net Adventures offer several advantages over high ropes courses, including:
A broad range of target groups:

Ages 5-8: Safe climbing, playing, and bouncing
Ages 8-12: Safe playing, gliding, bouncing, and climbing
Ages 12 and up: Exciting games, gliding, bouncing, and climbing
Businesses and families: Challenging games, gliding, bouncing, and climbing

No safety system required
Low staffing needs
High-capacity solution
Fun and safe for all ages
Safe, new, and exciting
Built using poles or trees (or a combination)
Indoor or outdoor options
A Net Adventure is a unique playground offering various challenging activities suitable for all ages. The park is integrated into the natural surroundings and is also available indoors! Unlike a high ropes course, participants are not secured by harnesses or safety systems, but instead use nets to play safely. Every Active Fun Structure is designed differently and can incorporate different products, such as a net course or tubing track, providing endless opportunities to climb, swing, slide, crawl, balance, fall, jump, discover, collaborate, roll, and more!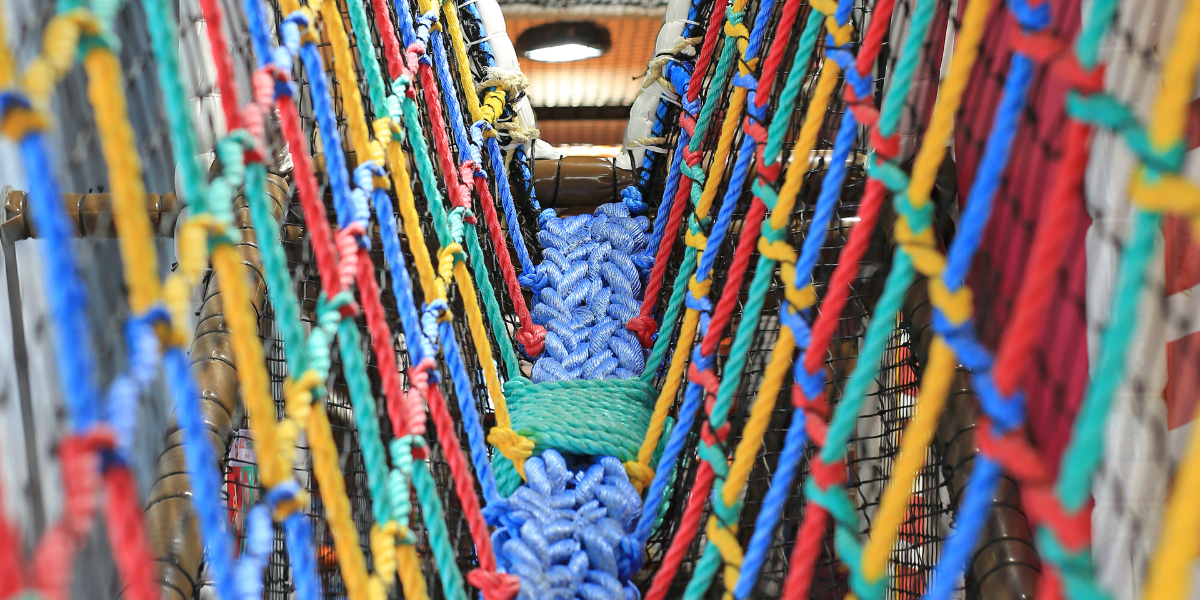 Target Groups
A Netted Aerial Adventures is suitable for almost all ages. The various challenging activities and rest areas make it accessible for both young and old. Parents and grandparents love to watch their (grand)children play in the woods at height or on the ground, and want them to be safe, so they can sit back, relax, and enjoy the food and drinks available. However, parents and grandparents often join in and tackle the challenges with their (grand)children.
Unique Proposition
In today's world, people easily get bored and are always seeking new experiences, preferably something that has not been done before. However, coming up with a new idea can be a challenge. That's why we believe that tapping into people's primal instincts can make your Net Adventure course stand out. People often forget that our roots are in nature, where everything started. Nevertheless, the primal feeling is still present within us. By cleverly tapping into this feeling, you don't have to come up with something more innovative than your competitors. We use people's primal instincts and adjust the playing elements accordingly, providing your customers with the feeling of their true identity in your Active Fun Structure. This guarantees an unforgettable experience, lasting memories, and repeat visitors.
Theming and Branding
Bringing people back to nature is a simple and effective way of entertaining them. By adding a historical story, the appeal of a Net Adventure Parks increases. Take movies like Gladiator or Avatar, for example, which were huge hits thanks to their excellent acting and compelling storylines. By incorporating similar themes into your Active Fun Structure, visitors can play with even more imagination. The stories told after their visit will also have a lasting impact, just like word-of-mouth. Storylines can be easily adjusted with the help of brochures and digital solutions, so your park can be updated each season without having to change all the obstacles and elements. Simply by adding new signs and handing out new brochures, your customers can have a brand-new experience.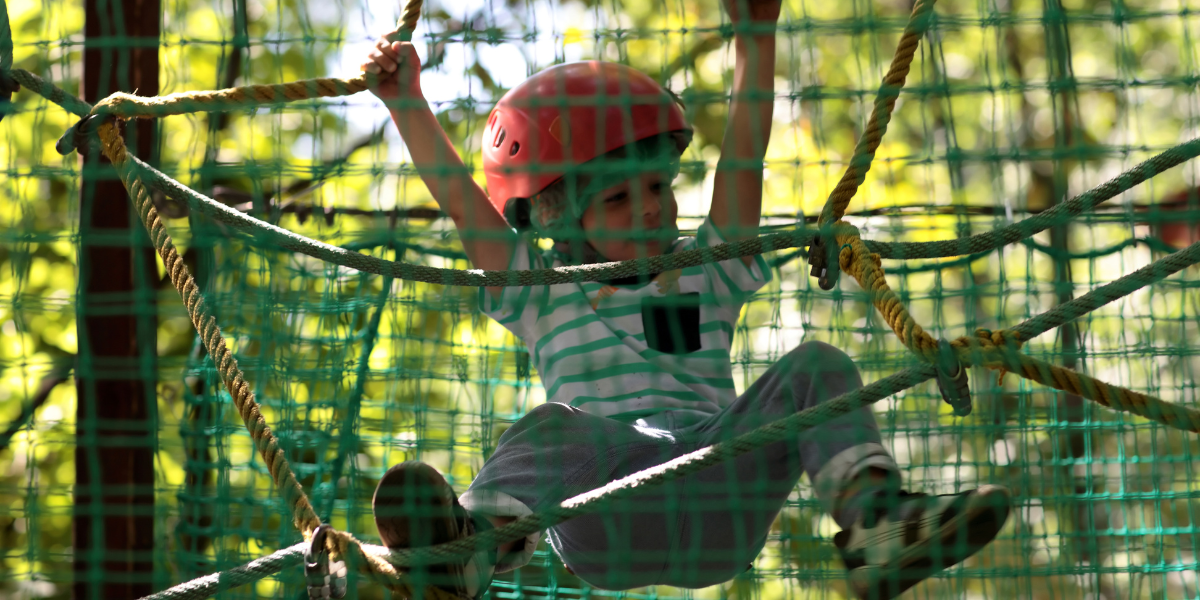 Why Choose a Net Adventure?
Our net adventures are the newest and most thrilling experiences on offer. Customers feel like they are in a bounce park, but elevated in the sky. Perfect for both kids and adults, these courses are especially popular with families seeking accessible activities for all ages, from as young as 3 years old.
With lots of exciting accessories and thoughtful design, the net adventures attract a large target audience, with the ability for many customers to play simultaneously with minimal supervision. Unlike ropes courses, specific equipment is not required, as safety is ensured by the net itself, giving participants an unbeatable sense of freedom and reducing management responsibilities.
Standard Net Adventures
We offer standard net adventures in various sizes, capacities, staffing needs, and prices. Depending on the size, these standard adventures can be set up in a shorter time frame compared to custom-made net adventures. For a family-friendly and innovative experience, we recommend our fun net courses.
These aerial recreational areas provide an opportunity for kids and adults to play together freely, with bounce nets, treehouses, and platforms for everyone to enjoy. Our standard net adventures come with a range of components including nets, slides, tunnels, entrances, treehouses, and tubing tracks. They can accommodate anywhere from 20 to 35 visitors at once up to 100 to 120 visitors at once, so you can choose the perfect standard adventure to fit your location, needs, and budget.
Custom Net Adventures
For a fully personalized experience, we also offer custom-made net adventures. Our team will work with you to create the best design that fits your specific wants and needs. The net concept allows for creative freedom, with options for giant mazes with multiple levels, tunnel paths, and even custom colors to create light within the forest.
Custom net adventures can include the same components as our standard options, but can also be combined with climbing or zipline adventures. Treehouses and viewing platforms can also be added as complementary activities, with the option to integrate them into the net course via bounce nets, slides, walkways, or chimney net ladders. Night activities are also possible with the addition of lighting.